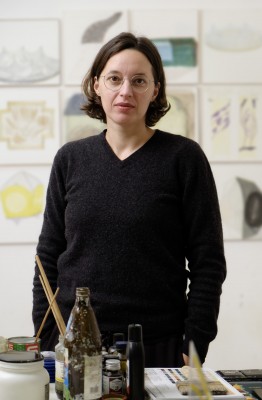 I am a painter based in Vienna. I grew up at the main flatland area in the east part of Austria and studied abstract painting at the Academy of Fine Arts in Vienna. There I work at my studio, unless I am invited to a residency programme or scholarship to explore and observe.
Now and then something touches me. Something beautiful, something restless, something urgent. Usually it appears in the corner of my eye and I don't notice it until it has passed. Or I hear tangent words and sentences on the surface of my inner ear, during reading or walking around. These former slightly words are becoming heavier and heavier with time and suddenly weigh much more. This hesitant and remote experience inspires me to make something obscure into something real and palpable.
In my work I am compelled by the act of using up materials, which are neatly sorted on my desk, as well as experimenting with unexpected new ones. I want them to surprise me, see how far they go, what happens in the process of the use up and combine them. This is my self-forced project of everydays disciplined work. This "act of using up" can be claimed to be a significant process for me – archiving materials, sketches, notes, moments into paintings and titles. In my work it's all about proximity and distance, about not having to explain oneself.
And all this brings me to just that: my attentive space.
Text: Petra Schweifer, Winter 2020 / Foto: Thomas Ries, November 2020
CV dt. (recent version 2020)